Our Mission:
We are at the beginning of the most radical transformation of our food industry since the Green Revolution. From sensors and software that help farmers improve margins, to crowdfunding platforms that help food artisans kick-start their businesses, to big data and mobile apps that allow consumers to make more informed choices and communicate directly with companies in the shopping aisle, emerging technologies are disrupting how food is produced, distributed, sold and consumed.
Food+Tech Connect gives innovators the information, skills and connections they need to create a better future for food. Through news, analysis and research, we help people identify and understand market needs, emerging technologies and successful business models. Through events, we connect the leading thinkers and doers from the worlds of food, agriculture, health and technology.
Our goal is to accelerate innovation and feed the growing hunger to hack a healthier, more equitable and more profitable future for food. Whether you are a Fortune 500 company, entrepreneur, policy wonk, farmer or technologist, join us, and the growing network of innovators that are making this future possible.
News and Analysis
Food+Tech Connect is the go-to source for information and insights about the emerging food and agriculture tech sector. Through our website we feature interviews with industry stakeholders, startups and investors, as well as highlight valuable market research and resources. We also highlight market needs to make it easier for entrepreneurs to discover which problems need solving.

Every week we curate and deliver the latest food tech news, trends and startup resources to our readers' inboxes. We track the top technology and innovation happenings across agriculture, CPG, grocery, restaurants, cooking and health, so our newsletter is the absolute easiest way to stay on top of the emerging sector. You can check out our most recent newsletters below and sign up here.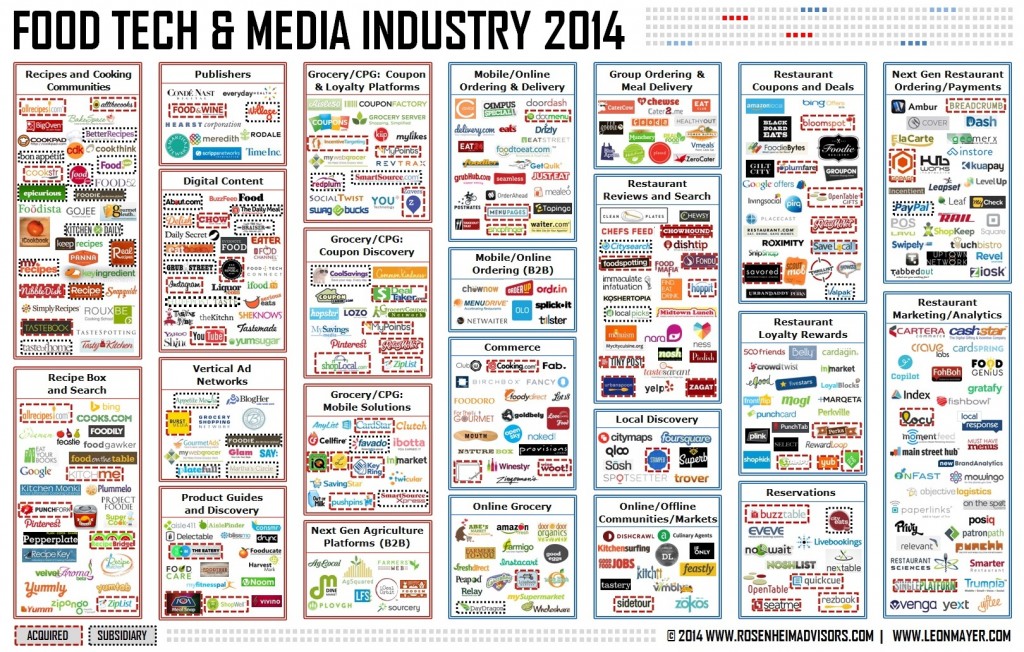 Our monthly column Food Tech Media Startup Funding, M&A & Partnerships highlights the most interesting acquisitions, financings and partnerships within the Food Tech & Media ecosystem – digital content, social, local, mobile, grocery, e-commerce, delivery, ordering, payments, marketing and analytics – to give you insights into the latest funding and growth trends. You can browse all of the roundups here.
Food+Tech Connect produces events that connect innovators across the food supply chain with each other and help them re-envision the way they do business. These events create unique opportunities for exploring business challenges, new ideas and emerging trends and include:
Innovation dinners
Food and agriculture site visits
Corporate innovation programs
If you are interested in having us help strategize or plan one of your events, fill out this form or email us at events@foodtechconnect.com.
Custom Research and Trend Talks
Food+Tech Connect leverages its unique position and network to help companies understand and assess emerging food, agriculture and technology trends. Combining domain knowledge and a cross-disciplinary network of experts, Food+Tech staff can help you accelerate innovation at your own organization and develop unique partnerships, products and communications and investment strategies.
If you are interested in finding out more about Food+Tech's custom services, email us at research@foodtechconnect.com.
As Seen In: